DAGALA THOUSAND LAKES TREK
ABOUT
This is a short eight-day trek near Thimphu, passing by picturesque, trout filled high altitude lakes. It will take you across meadows and through rhododendron forests up to a pass with spectacular views of the Dagala range. Encounter an abundance of pheasants and deer and enchanting small villages on the way. This is a moderate trek with mostly short trekking days, but it includes a few steep climbs.
 Pre-departure planning is important.
Here are certain things you should watch for and plan for.
Visas
Check with the appropriate consulate or embassy in your country to find out if you will need a visa to visit the country of your destination, especially for an extended period of time. Some countries have extremely detailed and complicated entry/departure laws, and treat visits of a week or two very differently from longer stays.
Money
If you're traveling to one area, check the cost of living there. If it's high you'll probably want to budget more carefully and save some money before leaving. The lower the cost of living the less you'll have to save, but be sure to have a back up reserve in emergency cases.
General Tips
Talk to other people who have done a similar trip.
If you don't know anyone personally, try any of the dozens of online travel web sites full of first-person travel stories covering every possible type of trip.
Plan big and loose. Read everything you can about the area.
There may be sights and attractions you didn't know about. A rough outline of your trip might have three or four target points and a variety of ways to get between them.
You don't want to find out that the weather isn't what you thought, or the guide book was incorrect, after committing to 6 weeks in a specific spot.
Some trips will allow you more leeway than others. Travel plans in Asia can often be made day-by-day while summer travel in Europe should be organized at least a few weeks ahead, unless you're prepared to hunt around for hotel rooms and train seats.
Set up a pre-trip time-line so you don't end up with a full todo list your last week of work or school.
Things to consider are doctor's visits for a check up, inoculations, and prescription refills; purchasing plane tickets; renewing passports and obtaining visas and other documents.
Check your insurance coverage abroad and purchasing additional travel insurance if needed. Don't forget visiting friends and family members!
The longer the trip, the lighter you should pack. This might seem strange, but it's true you can afford to lug a heavy bag around for a week or two, but do you want to have anything extra for a year?
Stick to the absolute basics and know what you can and cannot buy at your destination(s). There's no point in bringing 6 months of toothpaste to Europe or buying a sarong at home to take to the tropics. If you are visiting several climates, try to arrange it so you visit the warmer places first and coldest last. That way you can purchase sweaters and long pants and not have to carry them any more than needed. Alternately, visit cold climates first and then ship unneeded layers home — or sell them off.
A good rule of thumb is to bring one outfit for the hottest day you're likely to encounter, one for an average day, and one for the coldest.
Make sure everything goes with everything else (if that's important to you), and remember that layers are always best.
Be prepared for uncomfortable trips. You will often find yourself in a busy, cramped, economy class environment and it could be for many hours – especially long plane trips.
If you want to arrive at your destination refreshed and able to enjoy the sights, then try a good quality travel pillow to support your head, some ear plugs to block out the screaming babies, and an eye cover to block out the sun or cabin lights.
Just avoid those cheap U-shaped pillows from airport shops – your head drops forward and you wake up with a stiff neck.
Make contact with the locals before you go.
Maybe you have a friend-of-a-friend or a foreign exchange student from high school you remember, or just found a friend through a travel web site; almost everyone is happy to welcome a foreign visitor to their home town. This might be as elaborate as a home-stay for a few weeks, or just coffee in their home town or dinner at a locals restaurant.
Trip Attractions
Visit The Government-run Handicrafts Emporium.
Visit  Setsho and nearby lakes.
visit Ta Dzong(National Museum of Bhutan).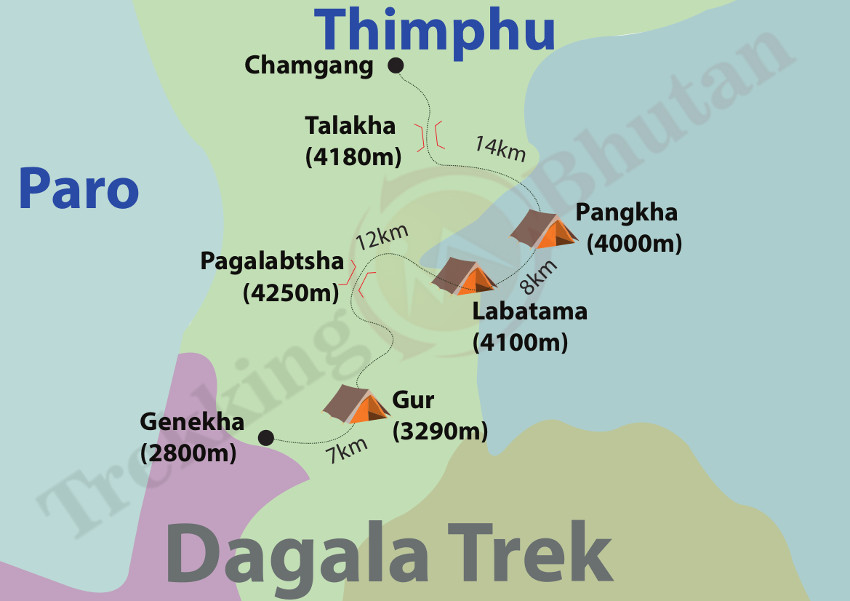 Travel Resources
Travel planning is about more than just knowing where you're going. Prepares to navigate, take control and be ready for anything. This section helps you steer clear of disaster and stay open enjoy the unexpected.
Quick Tips
Banks – Open Monday to Friday 9am to 2pm. Some banks are closed for lunch.
Emergencies – For police, dial a local phone number; for ambulance call a hospital.
Internet Access – Wifi is standard in most hotels and free in many coffee shops.
Mail – Buy stamps at the Post Office. Convenient post offices are located all cities. Most are open Monday to Friday 9am to 3pm.
Safety – Pickpocketing can be a common problem. It is suggested for men to keep wallets in their front pocket. Purse snatching also occurs at times.
Visitor Information
This site contains information with a very personal and friendly structure. It also has great links to other related sites online.
Information, internet access, maps, and train passes are available at local Tourist Information terminals. These are located at various sites around the city. Expect a wait if you arrive late in the afternoon or during lunch time. Local travel agencies are also helpful for quick information and finding hotels. There is no service charge for these services. Hours are Monday to Friday 9am to 5pm, and Saturday 10am to 2pm.
Transportation
Getting in from the airport and other arrival locations. Travel planning is about more than just knowing where you're going. Prepares to navigate, take control and be ready for anything. This section helps you steer clear of disaster and stay open enjoy the unexpected.
Plane – Flights arrive at the main airport near city center. If flying from European cities, you might land at a connecting airport. There is a tourist information office at the Terminal E, international arrivals, open 8am to 6pm.
Train – A train station is on the lower level of the airport. To get into the city, follow the marked signs.
Taxi – From the airport there is a flat-rate for the 1-hour trip, depending on traffic. Hotels charge up to $80 for shuttle service.
Train & Bus – Trains and buses arrive a city center. This is the transportation hub for the city and is surrounded hotels.
A perfect place for exploring on foot, with local shops around every corner. You will eventually walk somewhere, it's just going to happen. If you don't like crowds, uneven cobblestones, heavy traffic or narrow sidewalks, take a taxi or rent a scooter.
Itinerary Details
Day 01 : Arrive – Paro
Meet our representative at the airport and after completion of arrival formalities you will be taken to your hotel. Afternoon free for leisure. Evening visit to Paro market and town.
Day 02 : Paro
Morning drive up the valley to Drukgyel Dzong (1646), which once defended this valley from Tibetan invasions. Though largely destroyed by fire in 1951, its towering outer walls are still an imposing sight. On a fine day, there is a grand view of Mt. Jomolhari from the approach road to Drukgyel Dzong. Drive back along the valley to visit a traditional farmhouse and then the 7th century Kyichu Lhakhang, one of Bhutan's oldest and most sacred shrines.
Later visit Ta Dzong, which was built in 1651 as a watchtower to protect Rinpung Dzong, and since 1968 is home to the National Museum. The museum collection includes ancient Bhutanese art and artefacts, weapons, coins, stamps and a small natural history collection. Then walk down a short hillside trail to visit Rinpung Dzong, the 'Fortress of the Heap of Jewels' built in 1646 to defend the valley against Tibetan invaders. It now houses the district administration offices and Paro's monastic community.
Day 03 : Paro – Thimphu
This morning drive down the valley following the Pa Chu (Paro River) to its confluence with the Wang Chu (Thimphu River). Turn left up the valley leading to the nation's capital, Thimphu. En route visit Semtokha Dzong (1627), the kingdom's oldest fortress which now houses the Institute for Language and Cultural Studies.
The capital of Bhutan, Thimphu, is a lively place, an interesting combination of tradition and modernity. After lunch, visit the National Memorial Chorten, built as a memorial to Bhutan's third king, "the Father of Modern Bhutan", and as a monument to world peace. Then visit Tashichhodzong, "the Fortress of the Glorious Religion", which is situated by the Wang Chu and Thimphu's most impressive building. It houses His Majesty's secretariat, some ministries, and also the central monk body during the summer months. In the evening, take a stroll through Thimphu market and town.
Day 04 : Thimphu
After breakfast, visit the following sights as time permits: the Institute for Zorig Chusum, where students learn the 13 traditional arts and crafts of Bhutan; the National Library, which houses an extensive collection of Buddhist literature, including some manuscripts dating back several hundred years; the National Institute of Traditional Medicine (outside only), where medicinal herbs are compounded and dispensed, and traditional medicine practitioners are trained; and the Folk Heritage and National Textile Museums, for fascinating insights into Bhutanese material culture and way of life.
After lunch, visit the government-run Handicrafts Emporium, which carries a wide range of hand-woven textiles and craft products, and browse in the bookshops and many smaller handicrafts shops around the town. Take an early evening drive up to a lookout festooned with prayer flags, for a fine view of Thimphu and the valley.
Day 05 : Thimphu – Genekha [14km, 4 hrs]
In the morning we will drive for 45 minutes to reach the starting point for the trek. The first day's walk is along a mule path, passing by terraced fields and coniferous forest, and ending at the signboard of Genekha School. Overnight camp at Genekha (2,800m) alongside a stream.
Day 06 : Genekha – Gur [15km, 4 hrs]
On today's trek the true communion with nature begins, and you will see many varieties of alpine flora and also great variety of birds and other animals. After two hours of walking gradually uphill, rest at a huge rock platform, from which you will have a picturesque view of the valley below. After another two hours the trek ends for the day. Camp at Gur, where flowers are abundant in spring.
Day 07 : Gur – Labatama [12km, 5 hrs]
While trekking across the ridges, one enjoys the beauty of the rugged mountain vegetation.  Today's trek takes us across meadows where wild asparagus and other small plants grow, and if taking this trek in the spring, you will feel you are walking over carpets of flowers. The first pass, marked by a large cairn gives a spectacular view of the whole Dagala range, alpine meadows and yak herders' camps. We will lunch at a nearby yak herder's camp. After lunch we will walk across hills and over meadows, ending the third day of our trek at Yutsho Lake, where golden trout abound. Overnight camp near the lake.
Day 08 : Labatama halt
This day is for an excursion to any one of three lakes: Relitsho, Hentsho and Jamatsho. Your trekking leader will tell you the mystical stories of these lakes. This would also be an ideal time and place for some trout fishing. Overnight camp.
Day 09 : Labatama halt
Excursion to Setsho and nearby lakes. The hike to Setsho lake is easy and interesting. You could spend the whole day trout fishing here, with packed lunch. Alternatively, after reaching Setsho you could then cross over a small ridge and go down to Jagetsho lake or you could try climbing Jomo, a 5,050m peak. Lunch at the summit, with spectacular views all around, is a memorable experience. Return to camp by dusk and prepare for the next day.
Day 10 : Labatama – Panka [8km, 4 hrs]
Walk for 20 minutes upwards before beginning the descent at around 4,460m. There will be splendid views of the Himalayas during the descent. Your escort will point the individual peaks out to you, such as Everest, Kanchenjunga, Chomolhari, Jichu Drake, Tserimgang, Khangbum, Masagang, Tsendegang and Gangchenta. Himalayan monal pheasants are a common sight, due to the vegetation in this area. Overnight camp on a grassy meadow at Panka.
Day 11 : Panka – Talekha [8km, 4 hrs]
This day entails the crossing of several increasingly impressive passes. You will see different varieties of blue poppy (if trekking June-July) and also species of mountain birds along the way.  Lunch at a point where the trail divides into two paths leading to Talekha and to Wangduephodrang respectively. After lunch, an hour's gradual climb brings us to the top of the last ridge on the Dagala range from where we will have a spectacular view of Thimphu valley below.  Another hour's walk and we will reach the last camp, a little above Talekha monastery.
Day 12 : Talekha – Thimphu – Paro [6km, 2 hrs]
Passing through alpine and mixed vegetation with bamboo thickets and wild flowers one reaches Talekha monastery and village, and once again the view of Thimphu is superb. We walk through mixed vegetation and apple orchards, finally reaching the main motorable road to Thimphu where our transport is waiting for us. Drive to Thimphu in time for lunch, and in the evening drive back to Paro.
Day 13 : Depart – Paro
Early breakfast in the hotel and drive to the airport for flight to onward destination. Your guide will help you with exit formalities and then bid you farewell.